#MeToo has brought about a demand for better. And the marketing industry's biggest abusers are being told that Time's Up. And while that is progress, we still have an important question to ask: Just how many women's wellbeing and career trajectories lie in their wake?
"The irony is not lost on me that as agencies, we say female equality matters to us, yet our actions or inactions say otherwise. As creatives, we inspire our clients to right wrongs and improve the human condition every day. I have a lot of hope that it's these same people who will practice what we preach and take action to show we have her back."
Caroline Dettman, Golin's Chief Creative Officer
In partnership with The 3% Movement, SheSays and EvolveHer, Have Her Back is our progressive stance – and a call out to our entire industry – to welcome women back and move female creatives' careers forward. Join us.
We hosted our first-ever Have Her Back Training & Empowerment event in Chicago on April 10.
Check back here soon for details on future empowerment trainings. Chicago event speakers included:
Becky Carroll
President & CEO, C-Strategies LLC
Former National Director for Women for Obama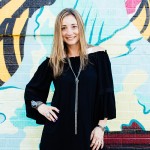 Caroline Dettman
Chief Creative Officer, Golin
Dennis Ryan
Agency and Brand Consultant
Former CEO, Digital Kitchen
Former CCO Olson, CCO Element79
Jewell Donaldson
Freelance Writer & Flagrant Creative
Kat Gordon
Founder, The 3% Movement
Liz Traines
Career & Lifestyle Coach
Ladies Get Paid Ambassador
Mary Pryor
Social & Digital Director
Urban Socialista
Megan Colleen McGlynn
Founder, Girlsday
Freelance Creative
This is bigger than any one of us.
Together, we must shift agency culture from one of entitlement to shared empowerment.
Take Action
Interested in attending an event in your city? Let us know and we'll be in touch.
Become a Have Her Back Ambassador
If you work at an agency – or are an individual who wants to take action – we're here to help. Email our Have Her Back team. We will connect you with training partners, share top female creative talent to help with your commitments to hire and connect you with our Have Her Back community.
Our mission is to welcome back female creatives who have left – or been forced out – of the industry. Does that include you?
It's time to go beyond talk. It's time to take action. It's time to Have Her Back.
What will you do?
Our commitment is grounded in three actions
Golin is partnering with The 3% Movement to co-create "Manbassador" trainings – designed to help solve the question many men are asking, particularly in today's climate: How do we support and advance women in the workplace?
Golin is committed to doubling the percentage of women on the ideator track, working towards Executive Creative Director roles, every year through 2020. We are looking for conceptual creatives in Chicago, NY, London. We have immediate open positions.
For the past five months, Golin has also created internal task forces and held town halls and focus groups to listen, talk and tackle the issues around sexual harassment, assault and inequality in the workplace. We believe that for this initiative to succeed, real, sustained changes to the cultures that have enabled these behaviors must take place.
"The 3% Movement has spent the last seven years understanding what separates creative cultures that are inclusive from those that are not. Here's what we know: men must be involved in gender diversity efforts; all employees must be given a safe mechanism for honest feedback; having 25%+ women at the top self-corrects most issues combating women; and support for intersectional diversity cannot be postponed a moment longer."
Kat Gordon, Founder of The 3% Movement