*Golin launched Life Time, a first-of-its kind employee benefits program in 2016, featuring enhanced family care, extended health and wellness, work-from-anywhere flexibility and unlimited time off. Under unlimited time off, this benefit offers people the freedom and trust to take time off when it matters most to them, allowing them to relax and recharge however needed. And as a result, Golin employees have the unique option and support to develop themselves through life experiences that go beyond the average vacation. In London, Emily Pearce took time off from Golin to volunteer in Sierra Leone, where she helped a community in need and experienced an opportunity of a lifetime:
In 2014, I was lucky enough to volunteer with the Kambia Appeal – a medical charity in Sierra Leone. A week after our return to the UK, Ebola hit and the charity was only recently allowed to return.
I made a promise to my friends of the Kambia Appeal that I would see them again, so I was desperately keen to go back. Luckily, it was an easy decision to make with Golin's unlimited leave, as I wasn't restricted by work holiday policy.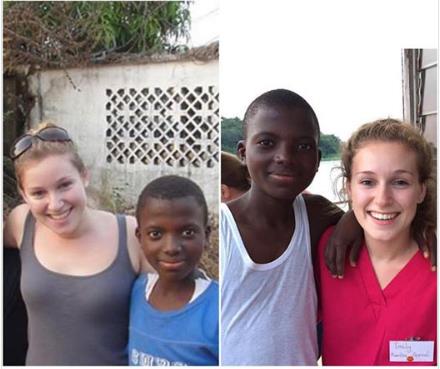 This is a boy (pictured above) I came across by the river when I visited in 2014. He didn't speak English but held my hand and walked with me, and I tied up his raggedy vest. I thought about him now and then but didn't for a moment think I would see him again. Three years later, after I returned, we recognised each other and he could tell me his name and show me where he lived.
When I tell friends and family that I have unlimited leave, the first question is, "what's the catch?" Failing that, it's, "Oh, but how much of your wage do you lose?" When I tell people that it's something you can do if you work hard and respect the Golin ethos, they still can't believe it.
But it's through Golin's ethos to Go All In, and support things like this. And that's why I was able to head back to Sierra Leone and do something that I'm really passionate about.
I wouldn't regard it as a holiday. An experience, yes. An adventure, yes. A holiday, no. I love going there and it's rewarding and inspiring. In my eyes, lying on a beach with Pina Colada in hand is my idea of a holiday. I'm not sure that 6am rises on a rat-infested camp with a long drop and no running water or electricity is quite the same!
Ultimately though, if I was restricted to choosing between the two it would be a difficult choice, and I'm so grateful that I have been able to do both this year.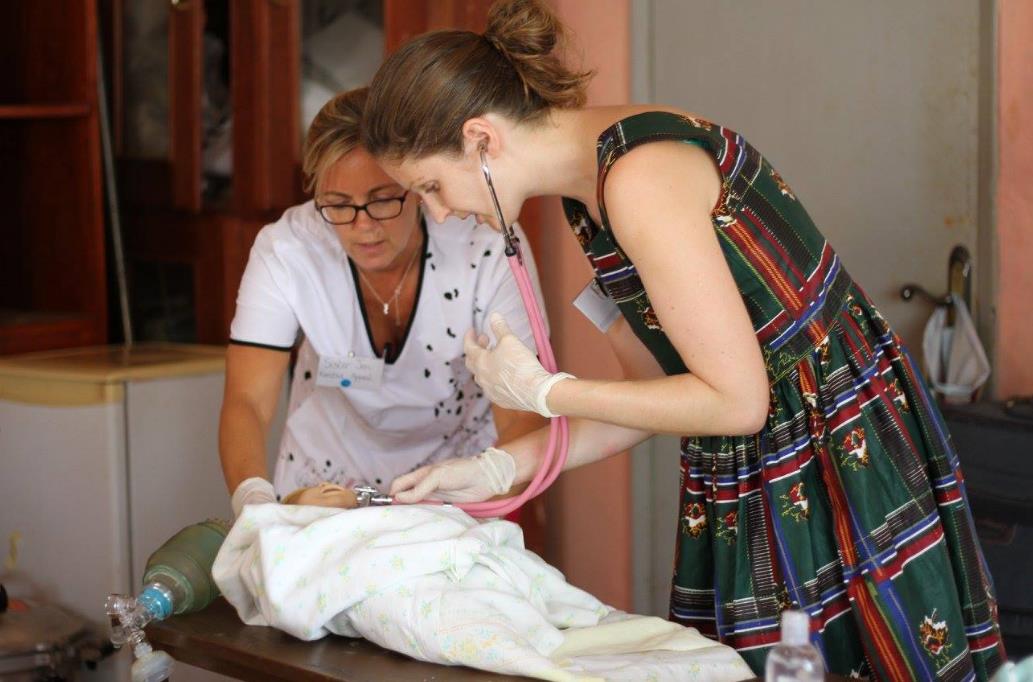 This is my mum and Aliki (a doctor who came out with us) teaching neo-natal resuscitation in the context of hygiene control. Although sadly, these skills aren't always transferable to the surrounding districts as they don't have the equipment.    
For context, my incomparable mum is part of the Kambia Appeal. The charity sends out medics to help in the hospital (which by the way has no electricity or running water and serves hundreds of thousands of people). The charity trains doctors, nurses and maternal and child health assistants (MCHAs) from all over the district. Working closely with the Sierra Leone Ministry of Health and Sanitation, their main focus is on improving maternal and child health in the Kambia District.
As a woman, it's incredibly powerful to see these fervently determined MCHAs being taught and encouraged to pursue a career rather than be solely a child-bearer.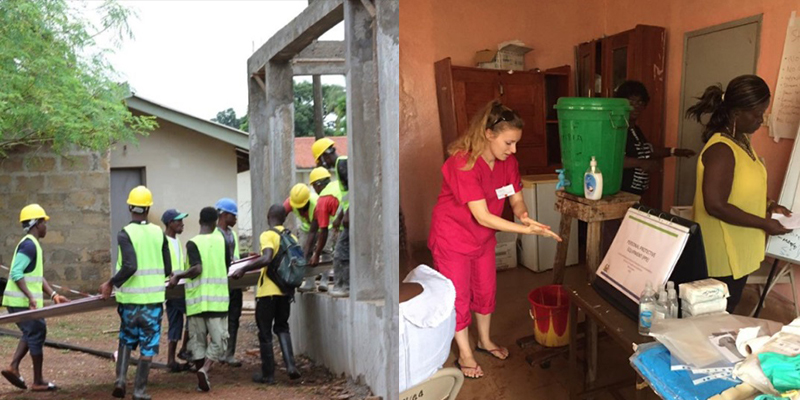 The hospital where they are building a triage unit following the Ebola outbreak. Previously, nobody has been checked before entering the hospital, which, as you can imagine has caused havoc with the spread of infectious and/or deadly diseases.
This time I visited, the team was facilitating training on infection prevention control. The change in the hospital is quite something. Last time we were there, it was a bit of a shock to be greeted on the ward by goats and chickens. This time around, however, there were hand-washing stations outside and on every ward – a positive outcome post-Ebola where the hospital has learnt the hard way about the importance of infection prevention.
I love what this charity does and have an enormous amount of respect for the volunteers that give up their own income and families (sometimes for up to 6 months) to go and help others. But I also love what the Sierra Leonean people teach us.
Moving away from the charity itself, my parents are in the process of building a new school in a village that we visited for the first time in October. In order to get funding and to pay the teachers, the school must have a basic structure and benches, which we have now achieved.
The reason this school has been set up is because there have been four very young children killed on the newly tarmacked roads whilst making their way to school. The new school means the young children don't have to walk so far, and they avoid the busy roads.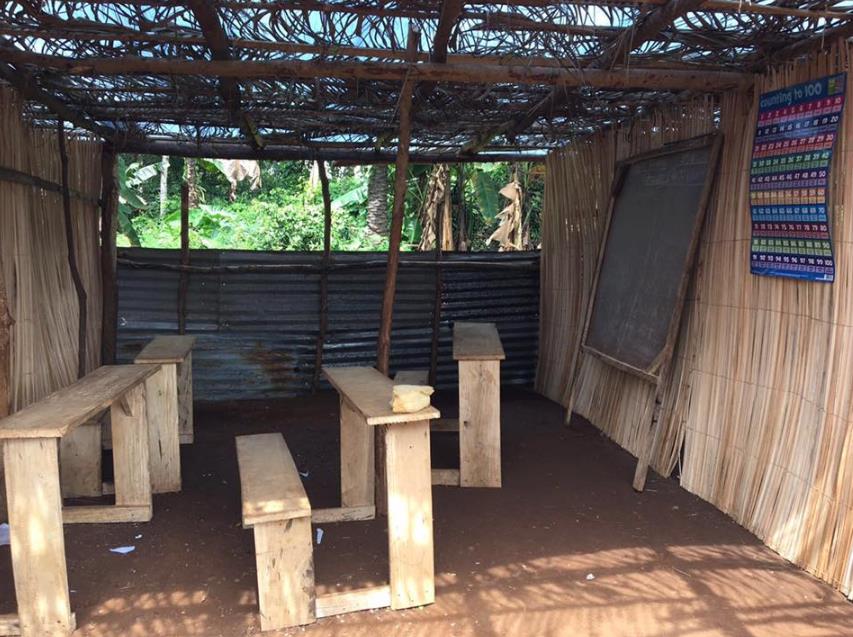 I also love the valuable life lessons the people I've met have taught me, the most compelling being to live in the now. Thinking about the future too much makes you miss out on the beauty of life that surrounds you in the present.
Plus, the friends I made are fuelled by love and happiness. You don't need anything to embrace love or happiness; you just need to surround yourself with people who share the same values. And for me, that's everything that humanity should be.
We all lead busy lives and work really hard, but experiences like these remind me of how important it is to step out of your comfort zone and meet amazing people.
My volunteering has reminded me of the importance of doing the things you want to whilst you can, because life is fragile and time is precious. There's nothing worse than regretting that you didn't do something ,and Golin's Unlimited Leave allows me to seize inspiring opportunities like this one.
If you wish to support the Kambia Appeal, you can learn more or donate here. If you would like to support the school we are setting up, please feel free to email me directly at epearce@golin.com. Any support is gratefully received.