Typical – I take some holiday and in that time an app casually launches and gets 100 million members in less time than it's taken me to post a Vinted order. But in the meantime, you have likely read all sorts of good, bad and ugly analyses of what Threads is, how it works, what it means for the internet and if this is truly the end of Elon Musk. Below is my take on this developing story. 
The Threads headlines 
Threads launched late on Wednesday 5th July/early on Thursday 6th July in several markets including Britain and the US, and has already reached 100 million sign-ups, the fastest app growth this year 
The app bears a striking resemblance to Twitter – a text-based app with buttons resembling the reply, like and retweet functionality

 

However, the head of Instagram has stated that this platform will be less about news and politics, and more of a 'town square' for communities to come together around softer, light-hearted interests and discussion

 

Brands like Wendy's are already jumping in and having fun, but the marketing world remains cautious due to the platform's newness, limited functionality and lack of analytics

 

Elon Musk is threatening to sue Meta due to the platform's similarities to Twitter

 
Already being called the "Twitter killer" app by some pundits, Meta's new short-form messaging service Threads has gone live in select marketplaces including the US and the UK and has quickly reached 100m sign-ups in just five days, the fastest app growth this year. (Notably, users in the EU and Ireland will not be able to access Threads at this time due to ongoing regulatory reviews and more stringent regional privacy rules.) 
But is Threads a Twitter-killer? Now that the app has launched and is gaining considerable traction and headlines, let's take a look at what the app is, what it isn't, and how we might want to counsel our clients to respond.   
What is it? 
The app has launched with bare bones functionality – Instagram head Adam Mosseri has set out intentions for forthcoming updates – and on the surface very closely resembles Twitter; the app is text-based, with basic image-sharing functionality and the ability to like, repost (akin to a retweet) or reply to other user posts. Like many social networks, users can also 'follow' people that interest them, and Meta has cleverly given users the option to follow everyone they follow on Instagram who has a Threads account, meaning feeds are already populated with content from people you in theory would want to see Threads content from. (This opens up several challenges for public figures – such as influencers – posting on Threads – but more on that later.) 
The app currently only has one algorithm-based homepage option mixing content from people you follow and accounts that might interest you, (rather than Twitter's optional chronological one), which has led to Elon Musk calling the platform biased along with multiple other criticisms. He's already planning to take Meta to court over IP violation and poaching staff to work on the app, so he is clearly concerned about its status as a direct competitor to Twitter.  
But Meta is doing its best to insist it's a different beast. Adam Mosseri has made the following statement with regards to the platform: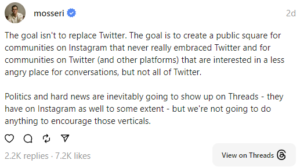 That 'town square'-style language is very reminiscent of Twitter in its earlier days, but the crucial call-out of not wanting the platform to be a place for politics and news (two of Twitter's key beats and notable problem areas for Meta in the wake of the Cambridge Analytica scandal) shows that the intention, if not the eventual outcome, is different. (That tweet will definitely feature in Musk's legal team's discovery documents for the inevitable lawsuit).  
How is it being used currently? 
Right now, a lot of Threads users are reveling in what commentators have called the 'first day of school' vibes on the platform – earnestness, as well as benign engagement bait-type tweets from influencers flexing their muscles on the platform (I've seen a lot of 'what's your favourite ice cream'-type tweets), seeming to dominate as opposed to harder-hitting commentary. The feeling is that, after the negativity that has become so prominent on Twitter, it's nice to have somewhere nice on the internet for the moment! 
How might influencers use it? 
Speaking of influencers – and in an interesting hark-back to some of the remarks made in our recent panel event – there have been a variety of versions of a joke that goes 'Threads is a way to see if you like your Instagram people's Twitter personalities'. Influencers who have achieved success on multiple platforms have done so through learning exactly what content ideas, types of humour, topics and tones of voice resonate on those platforms and leaning into them. Threads is so new that it is hard to know what's going to work there, but its text-based leaning means that converting your content style straight from Instagram to Threads isn't necessarily going to work once the platform finds its groove. Various social media gurus have been suggesting that brands who do dive into the platform just recycle old tweets on it, and while some brands (Wendy's being a classic example) have jumped into Threads and started posting with gusto using old tweets and an energetic, sarcastic and potentially slightly unhinged version of their Twitter TOVs, it is still too new to know how well the platform is going to treat every brand and influencer who uses it.  
What updates are coming to Threads? 
So what's next for Threads, and what can that tell us about the future of the platform? The below is a list of the proposed updates being worked on by Mosseri's team (initially taken from here, and then elaborated on by me):  
Improved search is coming, beyond the current basic user search option

 

Improving accessibility with the option to include alt text and descriptions of images

 

Threads will have active hashtags, which may or may not be necessary in a modern social app, given algorithmic matching and text ID. But they're coming anyway.

 

Yes, there will be a separate following feed, so you don't have to sift through all those recommendations if you don't want to.

 

Meta's still working on its decentralized elements, which will enable graph syncing and portability; good news for our analytics friends as for the moment there is no way to measure success on the platform (which, considering it's younger than the milk in my fridge, isn't surprising).

 

It's also exploring an auto-archive option, to keep your profile fresh, and avoid negative association with past, ill-advised Threads posts. Various third party platforms offered a data-scraping and auto-deletion function on Twitter for a fee in the past, so it's smart of Meta to build this in. (Though, cynically, it doesn't make reference to being able to purchase and delete your own archive, suggesting that all that data remains within Meta.)

 

Mosseri seems lukewarm on adding in-app DMs – Meta would likely prefer to link that option back into Messenger/WhatsApp/Instagram Direct. Meta's been working to integrate all of its messaging tools into a single platform, so adding another, separate one seems somewhat counter-intuitive. 

 
What should social specialists be recommending to their clients? 
Simply put, it's a little too early to call. While brands known for embracing the fun, experimental side of social media are diving in, the more cautious ones may want to wait until the platform settles and the following information emerges: 
What analytics will be available to measure the success of the platform, and at what point Threads will integrate with our analytics dashboards. We need to be mindful of how much resource our clients commit to a new platform without visibility of the returns

 

How user numbers fluctuate over the coming weeks and how many of them actively use the platform – the 100 m mark is truly incredible but it's important to note that this is users, not active users. (Interestingly, ChatGPT, this year's second-fastest growing app, experienced a 10% usage drop in June)

 

Which other brands start to join the platform aside from those known for experimental social media, like Wendy's. While the platform is currently a great place for positive, light-hearted discussion, jokes and memes, whether Mosseri's dream of it being a public town hall where users can chat about their passions to their heart's content (kind of like Reddit, right?), let's see if this dream continues

 

What other Twitter-like functionality moves across to Threads that makes it a good companion for Instagram. Clients of ours that tell text-based stories may be able to take advantage of Threads well (such as, say, report highlights, which can then be cross-shared in Instagram Stories to drive people to the brand's Threads account) but then we must bear in mind Mosseri not wanting Threads to be a place for news, politics, or harder-hitting content. 

 

What stories, topics and news does gain traction on Threads – again, tied to the analytics point, what discussion

is

being driven by the Threads userbase. This will help us see what the wider audience will respond well to here and what sort of stories we can be telling for our clients there. 

 
All in all, it's an exciting time where we'll see lots of experimentation, conflicting perspectives and media attention. If you want to know more or want guidance when the time comes, drop us a line! 
I'll leave you with this, the best first Thread I've seen so far.