Golin is on the hunt for our 2017 unconventional intern, who's ready to jump start their career out of office on a two-month adventure. In 2016, Golin's first Untern,  Chloe Abrahams, inspired us with her digital detox adventure. Chloe handed over her smartphone and visited the world's most remote locations from the Galapagos to the Amazon and off-grid Montenegro – sending beautiful letters back to the office. Read Chloe's story and apply now to be this year's Golin Untern.
As the Golin Untern I chose to spend my two-month adventure without my smartphone. No connection to social media. I was on a mission to cut through the noise that we are bombarded with each day, and get down to the core of what it really means to communicate.
I visited communities where social media is scarce in the wilds of the Amazon, the Galapagos islands, remote Peru and off-grid Montenegro. I experienced life without technology and connected to people in a more human way than I've grown used to while living in London.
WATCH MY UNTERN ADVENTURE RECAP VIDEO
I expected it to be challenging to give up my phone, after all, social media has been a huge part of my life since I was 13, but travelling alone without my digital connection was tougher than you can imagine. Even harder than many of my Untern adventures, such as eating worms in the Amazon and travelling by mule down a canyon cliff face!
The first few weeks were the most difficult, my brain struggled to understand why there was so little information being fed into it. I became restless and had to make a conscious effort to relax. I had to accept that there were times when I would be doing absolutely nothing and couldn't fill the time scrolling through Facebook or Instagram.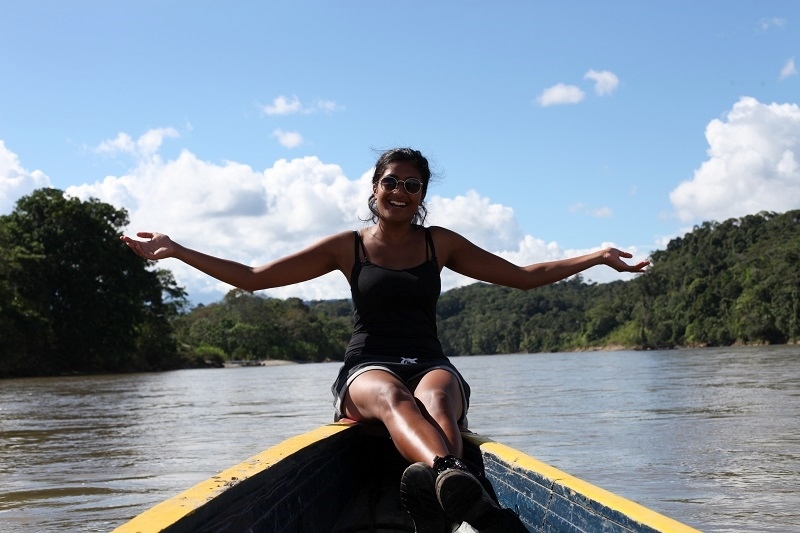 Once I got over these hurdles, I started to notice changes in my behaviour. Incredibly, my memory began to improve. I always struggled to remember names, and I had such an awful sense of direction. But not having a phone to use Google Maps or to save contact details meant my brain knew it needed to remember information.
I had to trust people more. If I needed to catch a bus for example, I had to have confidence in people's advice as I wasn't able to rely on the internet.
Before my trip, I always thought that the internet was the fastest way to communicate, but since spending time in communities that don't use social media I learnt this was not always the case. Amusingly I discovered gossip travels just as fast without the internet. Particularly on the Galapagos Islands, where the population is so small and everyone knows everything about each other's lives.
Since returning to London, I've slowly adjusted back to life with social media, but my habits have definitely changed. Facebook is no longer an app on my phone, as I realised how much time I was spending scrolling endlessly through my newsfeed.
I've stopped taking random pictures of everything (which used to be purely for Instagram), and I like to think I now take in a lot more of what's going on around me.
I don't know if it'll stay this way, as it's incredibly difficult to cut off from social media while living in London, but perhaps that'll be my next challenge.
APPLY NOW AT golin.com/uk/unternship