by Drew Crowell, Senior Vice President, Tech Media Strategy
CES 2022 felt different.
Companies and registered attendees alike were deciding, up to the last minute, whether or not to attend in person. Show organizers shortened the show by one day before it began. Changing global travel restrictions left potential attendees unsure if they'd be able to enter the U.S. or return home. Pictures of empty hallways and floor space were shared on social media, while sizeable attendance expectations circulated at the same time.
And yet many things about CES were the same as years past. Sure, the logistics were different this year but participating companies – and some who didn't participate – still made a splash with shiny new toys, eye-catching concepts and big bets on platforms that are still taking shape.  As we looked at conversations and press coverage coming out of CES, a few topics rose to the top.
Automotive company participation at CES has been on a steady rise and those companies continued to grow their share of voice at CES this year. Day one of the show featured a slew of announcements from major auto manufacturers including GM, Chrysler, BMW and Volvo. Even John Deere got in the game, unveiling its first automated tractor. Among all the automotive announcements, this was the year for electric vehicles (EV) to shine. The announcements were so compelling, electronic vehicle (EV) announcements appeared in one of four CES stories this year.
A fixture of CES, the coveted opening day keynote went to GM Chair and CEO Mary Barra. If the goal of her appearance was raising the profile of GM's electric and autonomous vehicle vision, the plan worked. Despite the virtual, pre-recorded format, Barra was the most mentioned executive with more than twice the mentions of any other key brand figure or spokesperson in event coverage. With that kind of impact, brands have a strong argument to continue to participate, even virtually, in industry events as opposed to fully disengaging from industry events to hold their own first party moments.
Even with a desire for near-term products useful in a post-hybrid work environment, consumers were still excited by flashy new technology that's more concept than reality. While press coverage was enamored with EVs, the largest topic of conversation among social audiences was robotics and AI, which captured 16 percent of CES Twitter conversation. For example, Engineering Arts' robot, Ameca, contributed to one thousand mentions on Twitter with people fascinated, intrigued and, at times, scared of the new robot technology.
Combined with virtual reality and gaming enhancements, everyone's favorite buzzword – metaverse – sparked more than 17 percent of articles coming out of the show. Sony's VR headset for Playstation and Panasonic's MeganeX VR glasses contributed to that number, as well as gaming companies like Epic Games and Roblox entering the metaverse.
Even with the heavy automotive brand presence, familiar technology names rose to the top of brand mentions during the show. Google rose to the top of brand mentions in articles thanks to a lengthy list of new software including product feature updates, ecosystem integration developments and, of course, new car tech. Component manufacturers Intel and Nvidia also generated significant interest after a year-plus of press conversation about silicon supply issues.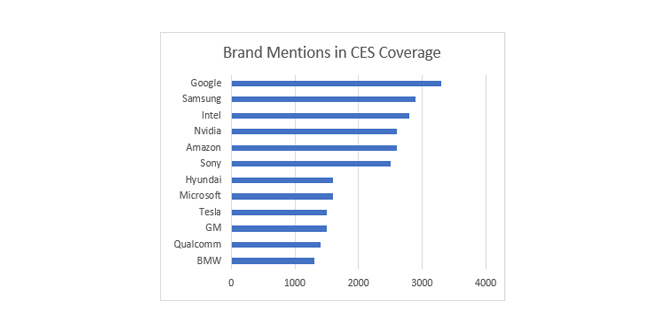 There's no telling what CES 2023 will look like. But, a few things are clear as we reach nearly two years of cancelled or restructured industry and brand events. The conversation around CES 2022 shows the appetite remains strong to learn what tomorrow and the next decade might look like. It shows technology progress is being made; sometimes in small important steps, sometimes in adventurous leaps. It shows there's room for both industry stalwarts and newcomers to own part of the conversation. And it shows there's a lot to look forward to in the year ahead.