by Joe Doyle, Executive Vice President, US Digital Healthcare
It's been a couple years of virtual everything, so when SXSW looked like it was going to happen this year, people  were buzzing with excitement, and a bit of the IRL fever. Then a war started, a governor desecrated the rights of transgender kids and nerves went sideways. Like many, I was unsure I was going to make it given everything that was happening in our world.
But many of us did make it to Austin this year, about 40% less of us than 2019 according to some projections. It showed with zero lines, less noise, and more accessible experiences. It felt like 2007 all over again. That was the year Twitter debuted, and many watched their tweets come to life on a large display in the convention center. We all asked, "what else can we do with this"?
In many regards the virtual world's promises of web3, NFTs (non-fungible tokens), the metaverse and cryptocurrency had a similar effect on conference goers. The block-wide Doodles experience garnered a lot of interest and skepticism at the same time. Create an NFT? Sure, I'm game, but then how do I use it? Doodle owners and fans took selfies, added their NFT to rocket ship displays and virtually spray-painted a wall with Behr Paint (co-sponsor) in the first in-person activation for the NFT collection. I'm sure we'll be hearing more.
Amazon Prime brought 'Lizzo's Watch Out For The Big Grrrls' to life, which brought dancing, smiles, lots of healthy conversation, free lunch, swag and more. The positivity was contagious. Same could be said for the bouquets of flowers and fresh fruit that were handed out by the International Fresh Produce Association. Amazingly crisp idea, that one.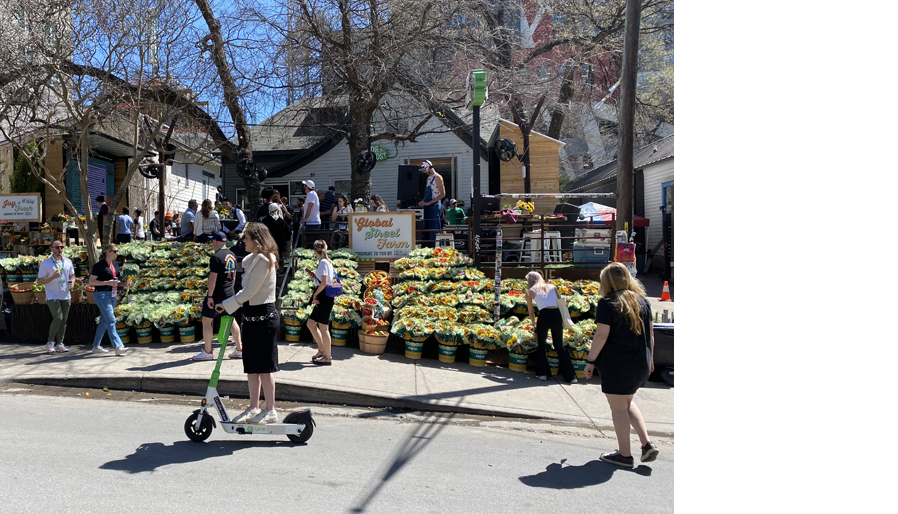 Fresh Produce easily had the healthiest pop-up
Session content was on point and, as usual, schedules were often double or triple booked with favorites. My specialty is health and medtech, and the track themes this year were not to be missed: health equity, technology for the aging and psychedelics.
Working at a global company with diversity, equity, and inclusion as our backbone, it felt at home to hear "human first" being repeated in almost every session. One of my favorite speakers was Lash Nolen in 'How Social Media Can Combat Health Disparities'. A brilliant storyteller, she painted a picture of false race multipliers and inequities between neighborhoods that lead to lower life expectancy and more insurance issues. She called for inclusion and a review of medical standards of care.
In 'VR and Brain Health', Stanford Neurologist Walter Greenleaf explained how the older generation can battle loneliness through virtual interactions with loved ones. A key success factor, he noted, is to make the content something generational, something they want to experience. Along with your voice and shared visuals, the right content can mean all the difference.
With 'AI is Listening', an all-star panel featuring Johnson & Johnson (a long-time client of Golin's) discussed how speech biomarkers can detect early signs of neurological conditions, such as Alzheimer's. Stephen Ruhmel, of J&J, led us through a history of biomarker acceptance and a promising future through proactive data collection, while Craig Ritchie from the University of Edinburgh gave us details of how individuals present speech signs in their 40's and 50's. Early intervention could mean a longer, healthier life for people at risk.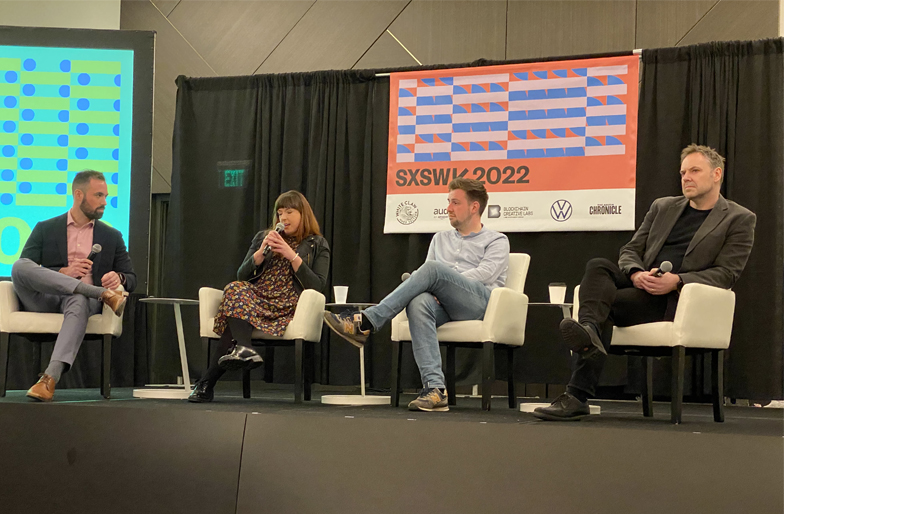 A well-rounded panel with featuring a global health company, a physician, a technologist, and a researcher
The last two days featured a deep dive into the new (old) frontiers of psychedelic exploration. One session gave a history lesson of LSD research that led to an uptake in SSRIs (testing helped scientists understand the pathway). Before LSD was banned, John McCorvy from the University of Wisconsin shared results showing that we once had a positive anti-depressant that worked. With all the trials currently underway for psychedelic interventions, this could be a lucrative area for investment.
I would be remiss if I didn't mention how SXSW stepped into the heavy topics of the war in Ukraine and transgender rights. Almost every session talked about the help needed for Ukraine and what we could do. And where the white space conference video was usually filled with quick cuts of celebrities and fun events, the SXSW team gave extended coverage to previous days' sessions featuring the voices of the transgender community. Empathy and humans first, as it should be.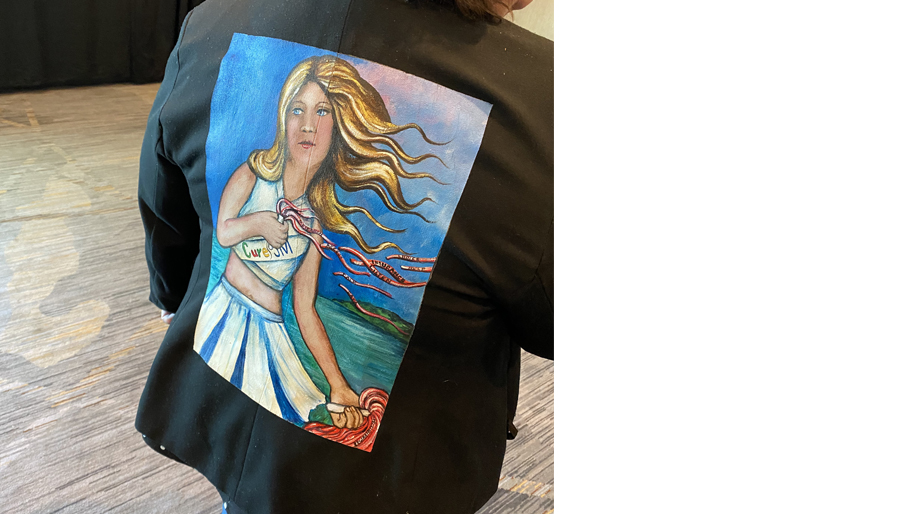 Emily Gleason (@ThePatientSide) displays her original Walking Gallery jacket honoring her daughter who has a rare disease
While no one is entirely sure what the virtual worlds will bring us, experimentation is in full swing and the future is before us. As we all figure it out, it was nice to be in-person once again enjoying the sunshine and expanding our minds in a way that only SXSW can deliver.