by Joe Doyle, EVP Digital Health, and Vi Huynh, Director, Digital
Another great year at SXSW Interactive has come and gone, but the gratitude for its uniqueness is never ending. Making connections. Rubbing elbows with thought leaders. Validating your digital approaches. Inspiration for next year's planning season. It's all there, every March, down in Austin.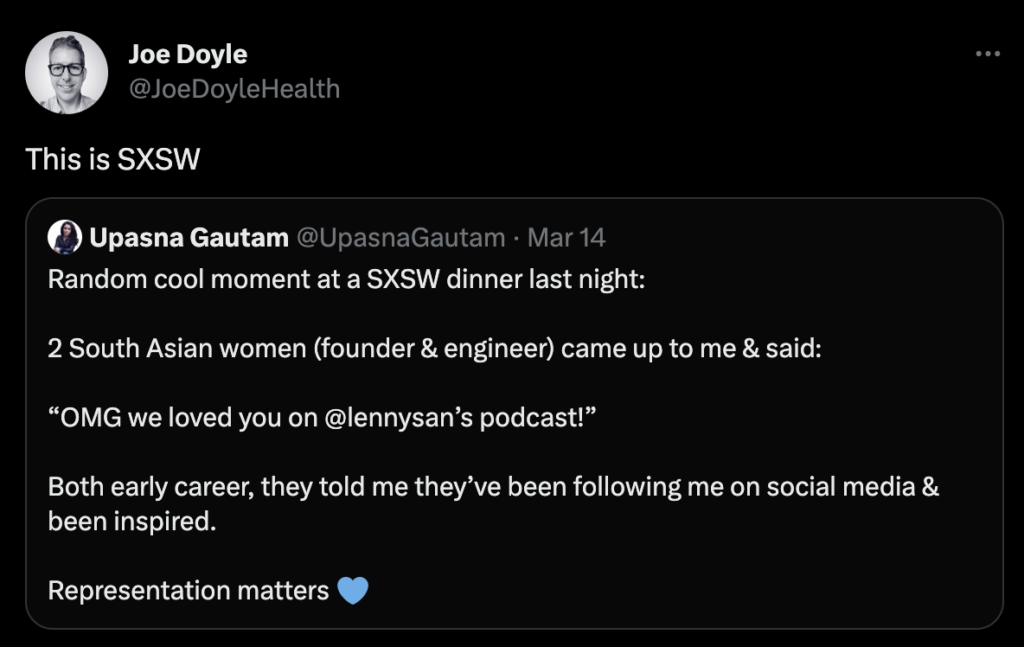 This year Golin Health had two digital leaders on hand, Vi Hyunh, VP Digital Health, and Joe Doyle, EVP Digital Health. Between us, we went to over 20 panels, walked 83K steps, enjoyed dozens of tacos and saw a handful of celebrities. But they're not important right now, let's get to the actionable trends we took away for our healthcare communications partners. 
Go beyond the patient journey.

When you zoom out, you'll find the broader systems and context people are living within, and new places and content that are outliers will appear. In

HealthTok: Inspiring Health & Trends

, the Nurtec ODT from Biohaven Tik Tok example was cited for its 18M engagements on a channel that wasn't originally considered. And in

Beyond Your Algorithm, Making Tik Tok Work for You

, Scarlett Perlman told us how Chipotle got 82M views using Tariq the Corn Kid in a 20 second spot targeted at their audience who responded well to the social trend. 
Keep going – there are more channels than ever before.

And that's not going to stop. In

The Future of Search: The Rise of Social Search

, brand marketers talked about owning the spaces your audiences use. For example, Gen Z searches regularly on Tik Tok but not many companies are in the mix. Right now, you can own keywords for accelerated FYP results, but not forever. Audience preferences will drive the new channels you add to your ecosystem.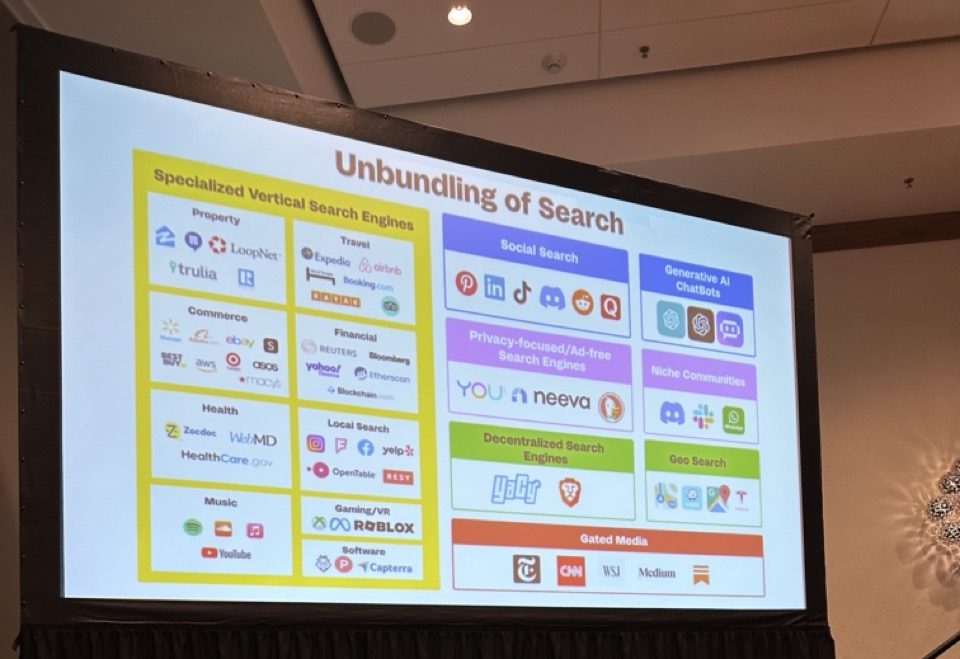 Content is still king.

1st party data – meaning a list you cultivated and own – will be the only way to target in the future. In

Will Data Privacy Kill Advertising

, Noor Nasser mentioned that a value exchange (quality content for your email address or SMS) on owned channels is happening with 64% of marketers already building their databases. We heard several marketers talk about turning short-form social content that hits high engagement rates into long-form owned content for value exchange. 
Audience-first strategies are vital.

Your audiences are savvier than ever when it comes to being "sold" something, but they're not opposed to it. Meaningful, relevant experiences that provide value still matter, whether that's in-person or digitally. Diving deep into audience engagement and content preferences on a regular cadence (read: annually) is the only way to stay relevant, to identify trends and capitalize.
Get comfortable with digital transformation, it is never complete. 62% of Pharma executives hold digital transformation as the highest priority this year and advancements like artificial intelligence change what we are just getting used to. In

A New School of Leaders Transforming the Marketing Experience

, Conny Braams, Chief Digital Officer of Unilever, validated the ongoing need for content and channels updates based on audience preferences and provided guidance that you can't win if you only look at results from a sales perspective.
Consider SXSW in your communications plans for 2024.

Spotlighting affiliate or corporate-level initiatives at a broad-reaching venue brings great exposure. There are so many opportunities at multiple levels for brands to lead and be part of the conversation at SXSW – BMS, AmerisourceBergen and Moderna had space for digital expert recruiting and special initiatives inside the Creative Expo, while Johnson & Johnson sponsored a Recharge Lounge just outside the Health & Medtech sessions to catch foot traffic of relevant attendees. Plus, dozens of health brands enjoyed earned exposure from panelists and presenters.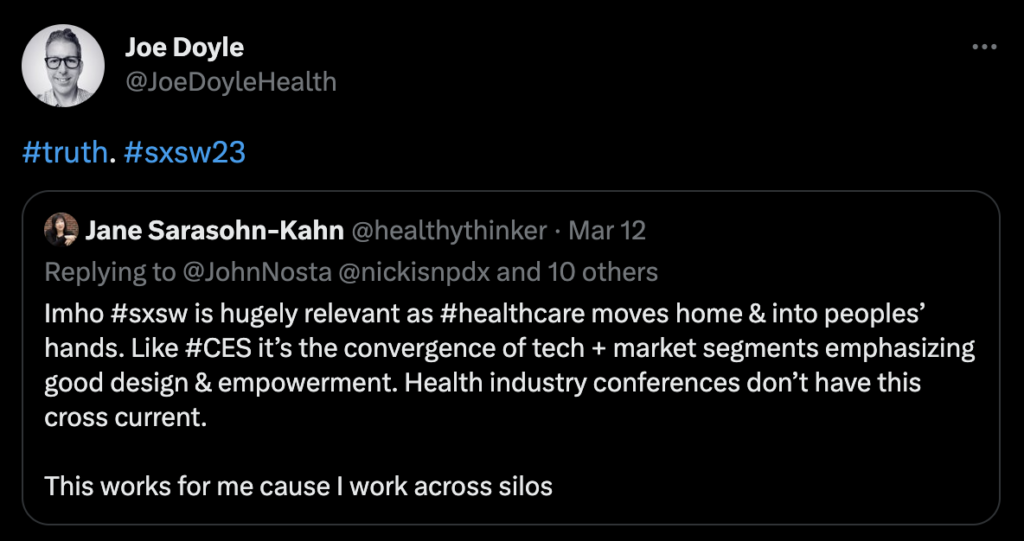 Industry conferences energize us in so many ways and SXSW continues to shine for the pharma, medical device, and healthcare industries. Hopefully these ideas resonate with you, and if you need any help getting them off the ground, please reach out to us for further discussions.